Your Lovers in the City are Engaged! For those who want to know how the proposal happened, here is a short video clip. It was simple, intimate but heart felt. <3
Now, after the cloud nine feeling of everybody congratulating the new step of our relationship, we are back to reality and starting the wedding preparations.
Based on many Wedding blogs and magazines, the first step that a couple should decide is the Wedding budget, which will be the guide in choosing between the wants and needs. Decision on what suppliers to choose will be, do they offer quality service and another big question, do we afford this?
We decided then that our budget will be 200,000 pesos. Yes, you read it right, it is two hundred thousand pesos! For us, that is a big sum of money. That maybe a year's wage for some, a decent second hand car, a down payment to a condo. But as a Wedding budget in 2017, this is really tight! Me (Wilma) is only 25 and Kevin is 27, many said, why the rush? You can wait for another five years and save for about a million for your dream wedding. But we are taking the challenge! And we are hoping that this will inspire many couple to take a leap of faith. We observed, that huge percentage of millennial dream of having the perfect wedding but is either intimidated of the cost of wedding these days, or it is just that the wedding is not  a priority.
We will post update on this blog from time to time as a guide to other couple who are dreaming or already planning their wedding.
So far, this is our target budget allotment that we hope to carry until final execution.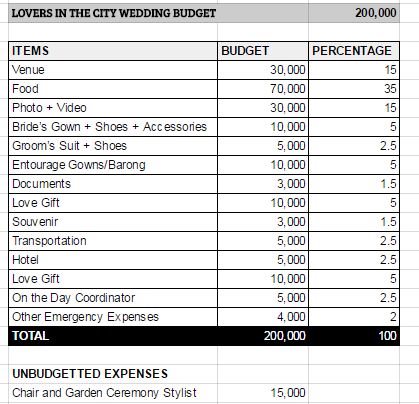 We are also eyeing to serve food for uninvited guests in our office, church and some neighbour and friends.