This blog, the Lovers in the City is born out of the dreams and bond of a couple, yours truly and Kevin. We are in relationship for over two years now where our relationship has come in a point of contentment. A "Wala nang hahanaping pa" stage where everything is in its rightful places and planning for the next step.
As a couple, we share both of our dreams; We both wa        nted to be a college professor. Kevin wanted to have a sports car and four other car variants while I just want a smart car and an SUV. Kevin wants to live in a condo because he fantasize a modern bachelor living, while I want to grow old in a serene rural area where we can relax in the nature and be away with the busy crowded place of the metro.
Browsing at Property24 Philippines Website, we came up with these five dream houses that we will add to our #RelationshipGoals.
Condo – Resort Living at Illumina Residences 
A  three Bed room in Illumina Residence which is a Resort Condo located along V. Mapa and P. Sanchez streets in Sta. Mesa. Why Resort Condo? We always long to have a get away once a while to recreate our mind and soul, and unwind from the stress we accumulated from work. So why yearn if you can have that Resort Living in the city?
Illumina Residences is strategically located to be near Ortigas, Makati and Quezon City Business District, plus it is also near trade centers in Cubao and Manila.
2. Condo – Another Resort Living at Castilla Place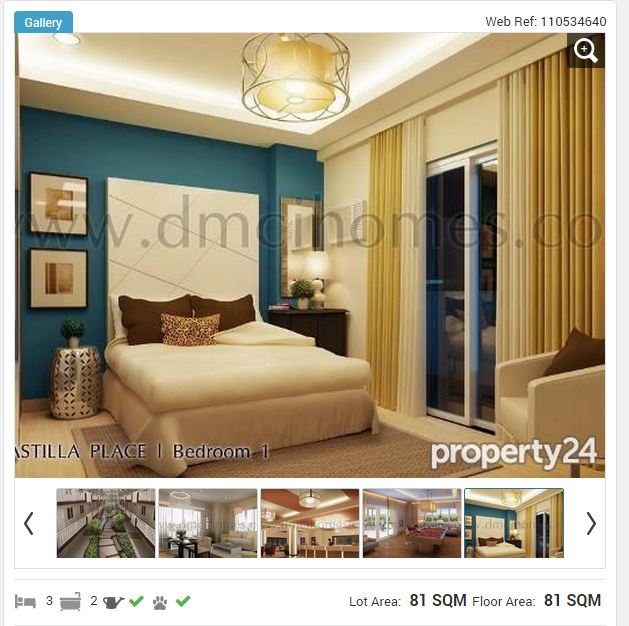 This 3 Bedroom Condominium at 1 Castilla St. Valencia, New Manila Quezon City is another Resort Living Condominium with Landscaped Garden, Pools, Gazeebo, Sky Park among others. Like our said preferences, it is near Business Districts, Schools and Hospitals.
3. A Spacious Family House at Capitol Park Homes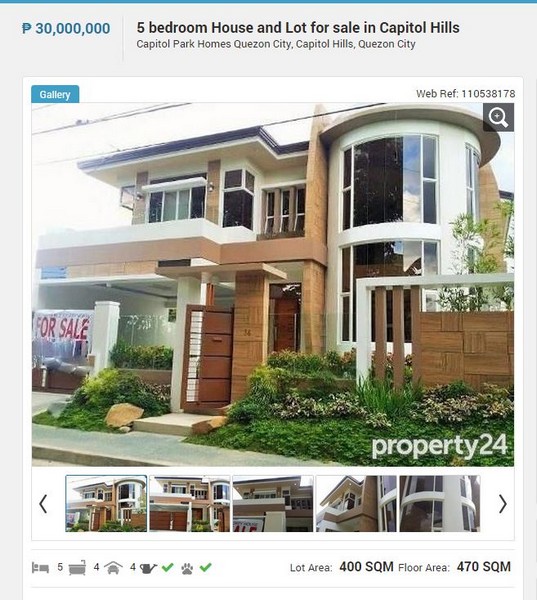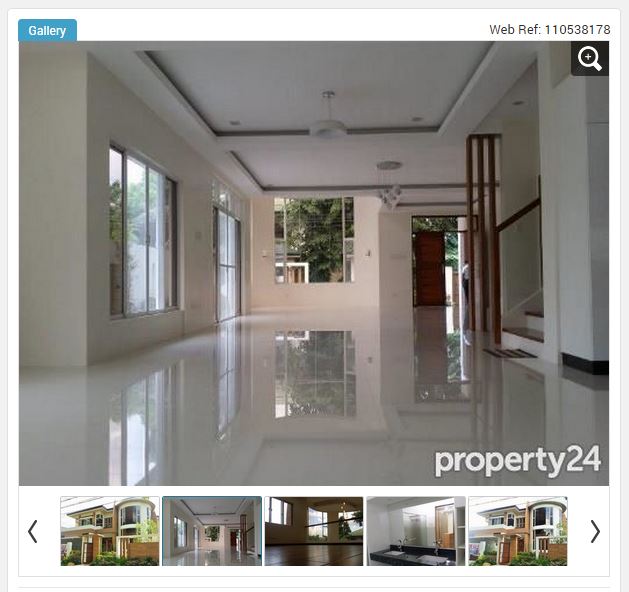 Did I previously said that I am writing about my dream house? Yes, this house costs 30M, 30 with six zeros. But if you are planning for a happy family in a perfect house, I think this would be a very nice fit. Kevin wants to have a music room in our future house, while I also want a library. We want our future children to be either musically inclined or well read or can be both. 🙂 We regret that when we were young, there was no avenue or open playing field for us to spend our childhood on playing a musical instrument, play sports or be well versed in something like History or Foreign Language.
This house in Capitol Hills also has a car garage for four. I think I can bargain with my love to settle on four cars rather than five.
 4. Another Spacious Family House at Capitol Hills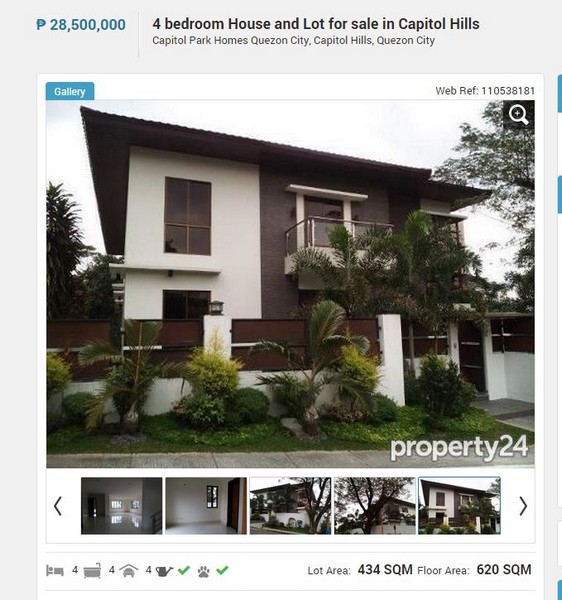 This Family house is also located in Capitol Park Homes in Capitol Hills, Quezon City. This is quite bigger with my earlier selection but cheaper. It has a four bed room, toilet and bath and garage. I live near Capitol Hills and It is really my dream that one day that I will have my house inside a peaceful executive village like the Capitol Park Homes. Capitol Park Homes is near Malls like Ever Commonwealth and Shopwise Commonwealth. It is a 15 minutes drive to Ayala Techno Hub and Quezon City Circle. It is also a few minutes away from Ateneo de Manila, Mirriam College, Diliman Preparatory, and University of the Philippines Diliman.
5. A Rest House in The Woodridge Place, Tagaytay Highlands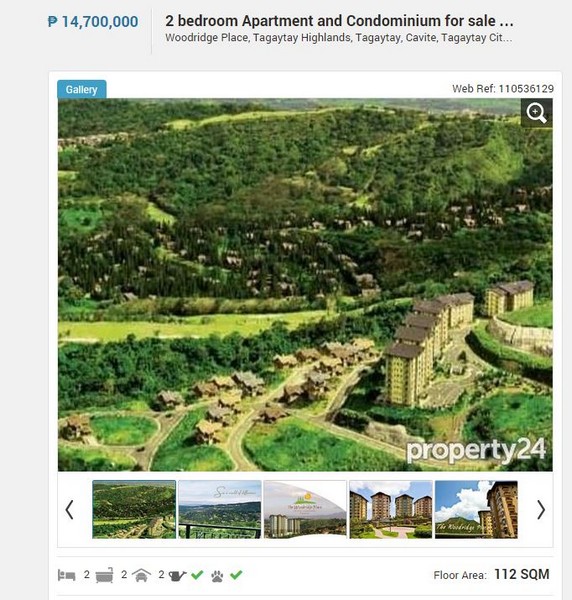 Tagaytay City is very known for its year-round cool weather. We once went to Palace in the Sky, a tourist spot in Tagaytay and one of the highest peak you can be to see a panoramic view of Tagaytay and Taal Volcano. Just below the Palace of the Sky is the Tagaytay Highlinds. How pleasing and perfect it is to wake up to see a majestic creation of our God every morning!
Property24.com.ph is the fastest growing property portal in the Philippines.  They provide an effective online platform for leading Real Estate Developers, Agencies and Brokers that allows them to showcase their property listings to a wider audience of qualified prospective Buyers.
#PerfectHome  #Property24  #Property24PH